Tours
*New for 2019
Yoga in the Mountains
Join us to hike in the alpine to explore, practice open air yoga, and meet new like minded women and friends. This years retreats will have a special focus for each one.
July 13/14  at Mount Carlyle will be beautiful flow yoga with meditations. There will an art therapy workshop included. The moon is almost full this weekend and Mount Carlyle will be bathed in her light.  Investment $375.
July 26/27/28 will be a new 3 night/4 day Kundalini based yoga under the new moon at Mount Carlyle. New moon is a wonderful time to set intentions.  The extra day and night will allow more time to release into the quiet freedom of the mountains. investment $475
Aug 3/4 will be an Acro Yoga Adventure at Mount Carlyle. This retreat will we be offering to co-ed participants for the first time. There is lots of space on the moss to tumble and play in the wildflowers. $375
Aug 16/17 offers a weekend at Carlyle exploring Hatha asanas with mantras and meditaions under a fullish moon. Investment $375
Aug 30/31 will be a Restorative yoga retreat at the beautiful Mnt Brennan lodge. This retreat differs mostly because it is drive in access instead of hike in.  This may be more appealing for those who don't want to hike three hours in with their gear. Instead we will do 6 hour day hike. This weekend is a mother /daughter invite. Investment $300
Sept 13/14/15, Full moon 3 night retreat at Mount Carlyle. Focus is energizing flow, Qi Gong and mediations.  Investment $475
Sept 27/28 will be a new moon weekend at Brennan lodge focusing on restorative and yin yoga.  A plant based registered Holistic nutritionist will be joining to share some knowledge.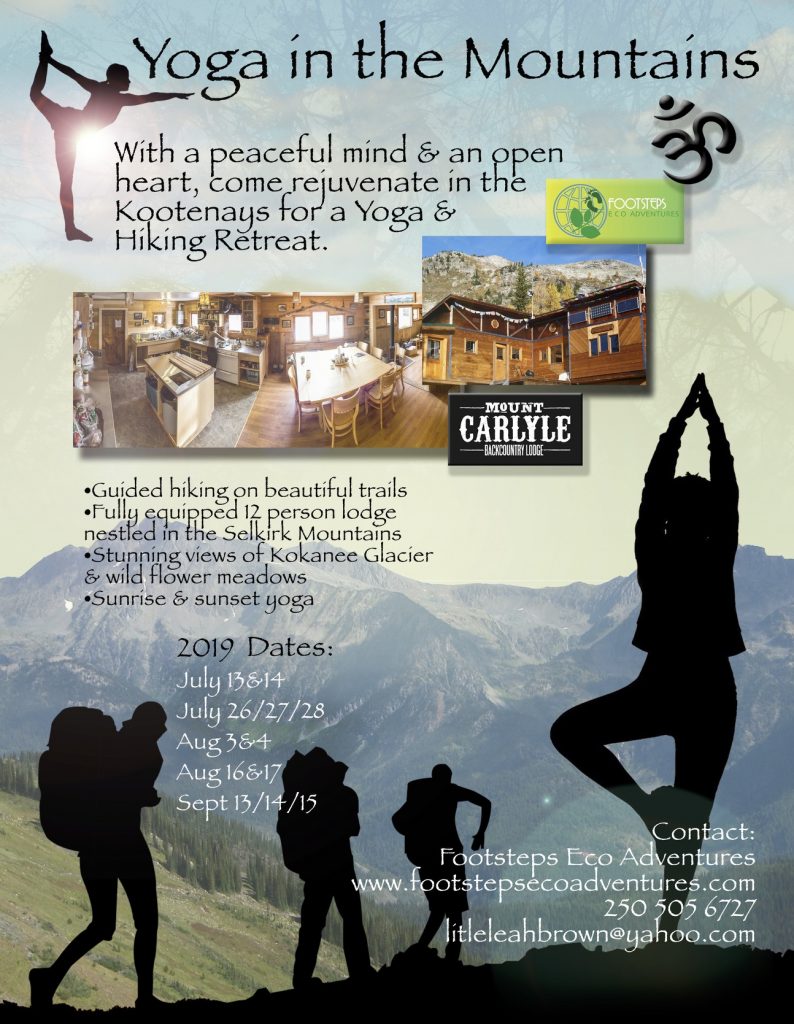 Hiking and Camping Tours
Many of our hikes take place in the Valhalla and Kokanee Provincial Parks. These vast parks are nestled in the Selkirk ranges and are bordered by the grand Slocan and Kootenay lakes. Choose your own adventure by embarking on a melo half day trip, more challenging full day or a multiday camping trip. Set your own pace and take in the magic mountain passes, glittering alpine lakes, ancient cedar stands and array of wildlife. Superb wilderness camping is available. Soak in the beauty of the stars and rise with the sun in the mountains.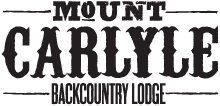 The Sourdough Trail:
Footsteps has joined with Mount Carlyle Backcountry Lodge to offer a spectacular 2 nights, 4 days of beautiful hiking through the Selkirk mountains to end up at a beautiful mountain paradise. Click on the logo above to read more