Tours
*New for 2018

Hiking and Camping Tours
Many of our hikes take place in the Valhalla and Kokanee Provincial Parks. These vast parks are nestled in the Selkirk ranges and are bordered by the grand Slocan and Kootenay lakes. Choose your own adventure by embarking on a melo half day trip, more challenging full day or a multiday camping trip. Set your own pace and take in the magic mountain passes, glittering alpine lakes, ancient cedar stands and array of wildlife. Superb wilderness camping is available. Soak in the beauty of the stars and rise with the sun in the mountains.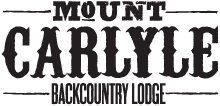 The Sourdough Trail:
Footsteps has joined with Mount Carlyle Backcountry Lodge to offer a spectacular 2 nights, 4 days of beautiful hiking through the Selkirk mountains to end up at a beautiful mountain paradise. Click on the logo below to read more.
Biking Tours
All levels of riding can be arranged from easy, flat scenic rides to downhill thrilling descents.
Beginner Rides: Easy riding on scenic multipurpose trails that wind their way through the pretty Slocan Valley. Different stretches can be ridden, with rest stops to watch the birds or a dip in the Slocan River.
Intermediate Rides: Enjoy a family pedal on the historic Galena Trail as it traverses through lush forests rich with historical artifacts and exciting cable car rides. Or pump your way through Champion Lakes Loop Trail that circles three backcountry lakes with stunning scenery.
Advanced Rides: There are several downhill trails in the valley where the Footsteps van can shuttle you to the top, allowing you the thrill of descent.
DH Bike Shuttles: Footsteps van picks up outside Sacred Ride Bike shop in Nelson every Thurs at 5 30pm, and Gerick Bike Shop every Wed at 5:30pm. $15-20pp. Min 5 Max 14
Custom Tours
Have a special event, birthday, wedding, sporting event, or concert that you and your friends and family would like to have convenient transport for? Footsteps is happy to accommodate custom events with our tour van and can help you plan and organize your trip. Call today for more information.